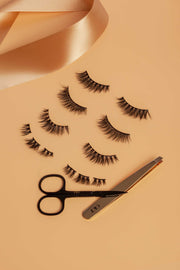 Enhance your natural beauty, with our customers most-loved light-volume lashes. PERFECT for lash beginners and delicate, subdued looks.

These 4 Lashes Give an Effortless, Natural Boost:

For best results, pair with our precision lash tools & glue!

These coveted lash styles are reusable (20+ times each), durable & comfortable enough to wear all day, into the evening. 


All lashes are made with synthetic, 3-dimensional silk fibers. 100% Vegan.