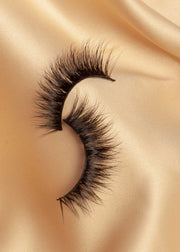 These delicate mink fibers are evenly distributed across the band giving a flirty, bright-eyed look. 


This coveted lash style is reusable, weightless & comfortable enough to wear all day, into the evening. 


This lash is made with multi-layered, mink fibers. Cruelty-Free, Always.




Highly

Recommended for Special Occasions & Bridal.

Also Available in the Bridal Bundle!