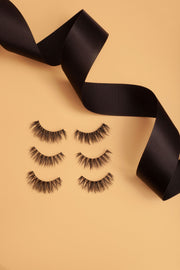 You're busy, we get it. This collection of lashes effortlessly brighten even the most tired eyes!

This discounted bundle includes one pair each of Hannah, Caitlin, & Angie for the full doll-eye effect.

These coveted lash styles are reusable (20+ times each), durable & comfortable enough to wear all day, into the evening. 


All lashes are made with synthetic, 3-dimensional silk fibers. 100% Vegan.